Articles
From «Boeing Magazine», August 1950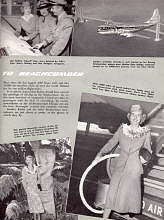 From Sky Queen To Beachcomber
| | |
| --- | --- |
| | |
| Between flight, Kathy Dunne finds San Francisco interesting. Here she dines at one of the well-known eating places on Fishermen's Wharf in her home-base city. | For shopping, Kathy always gets a thrill out of traveling downtown on San Francisco's traditional cable cars. |
If Mr. Gallup should hold a poll to determine which girl has the best job in America, Mary Kathleen Dunne would be a strong contender. As a United Air Lines stewardess, she commutes via Boeing Stratocruiser to that Pacific pearl, the magic land of Waikiki. And gets paid for it.
Kathy has been flying from San Francisco to Hawaii once a week for the past twenty months. Between flights, she makes her home with two other stewardesses at suburban San Carlos. Iowa, she says, was never like this.
Kathy joined United two and a half years ago.
| | |
| --- | --- |
| Kathy gets a 24-hour breather in Hawaii, most of which she spends sunning herself on Waikiki's famous beach, or riding surfboards and canoes in the nearby waters. | At Don the Beachcomber's thatched-roof emporium, Don himself takes time out to show Kathy an old Hawaiian headdress. |
| | |
| | |
| --- | --- |
| | |
| Just before takeoff time, she's briefed by UAL's Capt. Harry Huking and Bob Birdgan, navigator. | Kathy's workday already is well started as her Boeing Stratocruiser passes over Golden Gate bridge, outwardbound on its 2400-mile journey over the blue Pacific. |
Since then she has logged 4000 hours aloft and met 30,000 air travelers from all over the world. Behind her lie one million flight miles.
It is entirely logical that Kathy should have earned the privilege of serving on the Stratocruiser, for on this most luxurious of equipment United provides its passengers with the best of everything. Its twenty stewardesses on the all-Stratocruiser Hawaii run are the best, thoroughly trained and carefully selected.
Besides, Kathy and the other Stratocruiser stewardesses are just about as pretty as the planes in which they fly.
| | |
| --- | --- |
| This ancient Hawaiian version of the totem pole is one of Kathy's favorites. He may not be a cute kid, but then a stewardess prefers the strong, silent type. | With 4800 miles of ocean behind her, Kathy steps off her Stratocruiser back home again. She'll have about three free days in San Francisco before another flight. |
| | |