Articles
From «Boeing Magazine», December 1952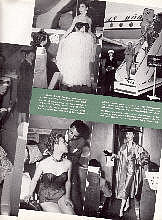 Flight Of Fashion . . .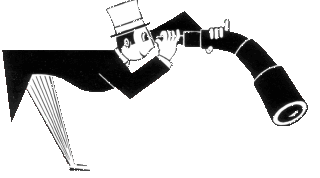 SEEMS to us the feminine airline passenger has been discriminated against long enough. Thus we are glad to report that, at long last, something is being done about it.
First, by way of background, let us explain this discrimination. It seems that the men who govern international air transport have devised a regulation called a luggage allowance. Under this rule a round-the-world traveler, for example, can take just 88 pounds for free.
Now, obviously, a man can get all the way around the world on this amount of luggage. Unfortunately, however, the air-transport men, being men, failed to comprehend the problems of a woman. How can a lady traveler have properly smart attire for every occasion, yet cram it all into any 88 pounds?
Well, Pan American World Airways has shown the ladies how it can be done. And without cramping their style a bit -as you can see by the photographs.
What Pan Am did was stage a style show. It was called "A Flight into Spring," and the fact it was staged in September reflects only that spring comes busting out Down Under when the leaves are falling in Osh Kosh.
The height of fashion, in this case, was somewhere around 20,000 feet above Australia, aboard a Boeing Stratocruiser. Mannequins paraded up and down the cabin, displaying two complete wardrobes created especially to meet all needs of a round-the-world trip. The most unusual feature was that each full wardrobe weighed under 88 pounds. One frock weighed only three ounces.
The ladies can't ask for much more than this. And we'd certainly hate to see them ask for much less.
| | |
| --- | --- |
| | LEFT — Model Diana Gregory emerges from circular staircase in lampshade-line frock. |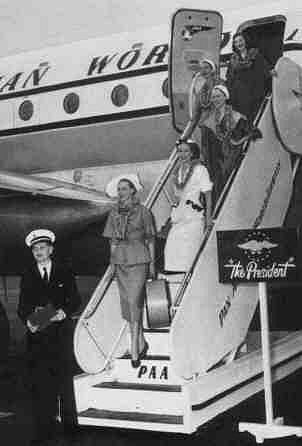 ABOVE — Mannequins emerge from their Stratocruiser style show dressed for any port in the world. The lightweight costumes are for round-world travelers.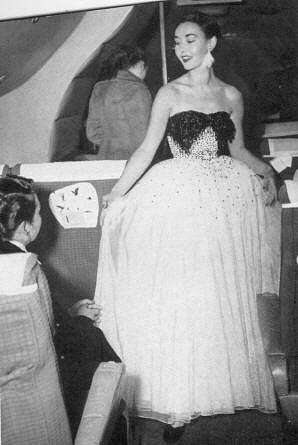 ABOVE — Crinoline worn by June Mallett is said to be "a clear white scoop of cloud."
BELOW — We can't identify Diana's outfit, but we guarantee that man is her husband.
BELOW — This outfit, modeled by Pat Firman, is described as gray spotted Shantung and weighs only six and half ounces. Hat is one-ounce flying saucer job.