Stratocruiser AOA — American Overseas Airlines
AOA-American Overseas Airlines
Boeing 377 Stratocruiser
AOA, a wholly owned subsidiary of American Airlines, inaugurated Stratocruiser service on its New York - London rout on August 17th, 1949, with two of these aircraft. One of these named the "Flagship Great Britain", is shown on this card. Early in 1950 the airline's eighth and last 377 hat joined the fleet which linked New York and Boston with England, Scotland and Scandinavia.
September 22, 1950 marked AOS's last flights its routes and aircraft having been sold to another airline.
---
IN FLIGHT - Route of the Flagships
American Overseas Airlines
Serving the United States, Newfoundland, Iceland, Eire, Great Britain, the Netherlands, Germany, Denmark, Norway, Sweden, Finland - with connections to all Europe and the Far East.
---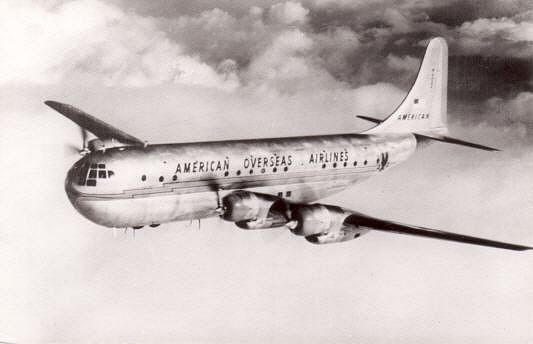 International Airline Museum
PHOTO POST CARD
AMERICAN'S NEW BOEING B-377 STRATOCRUISERS
---
Control Twower, Shanon Airport, Rineanna, Co. Clare, Ireland
---