Brochures
Scans of the brochure received from

Burt.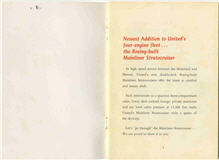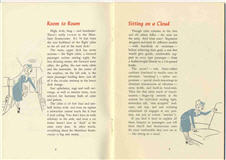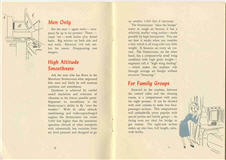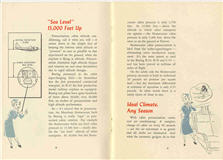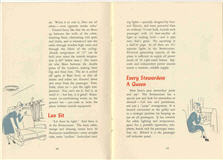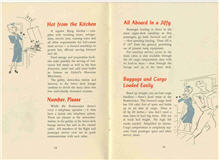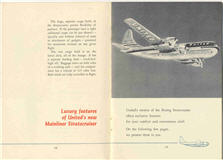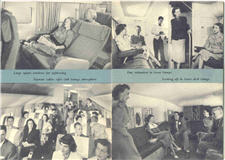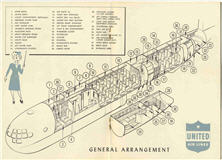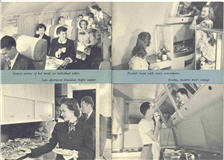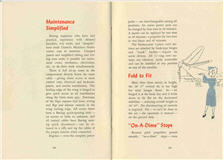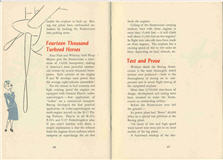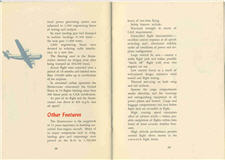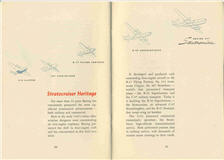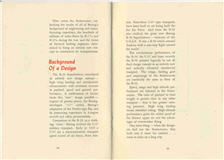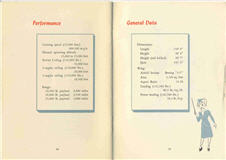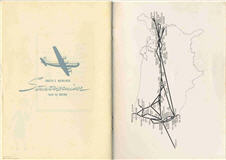 Presenting United's New Mainliner Stratocruiser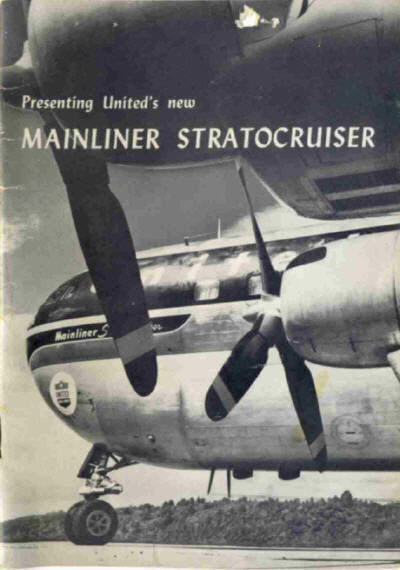 Newest Addition to United's four-engine fleet...
the Boeing-built Mainliner Stratocruiser
In high speed service between the Mainland and Hawaii, United's new double-deck Boeing-built Mainliner Stratocruisers offer the latest in comfort and luxury aloft.
Such innovations as a spacious three-compartment cabin, lower deck cocktail lounge, private stateroom and sea level cabin pressure at 15,500 feet make United's Mainliner Stratocruiser truly a queen of the skyways.
Let's "go through" the Mainliner Stratocruiser We are proud to show it to you.
1
Room to Roam
High, wide, long -and handsome' There's really r-o-o-m in the Mainliner Stratocruiser. It's 78 feet from the rear bulkhead of the flight cabin to the aft end of the main deck!
The main, upper deck has seven sections -the flight cabin, a forward passenger section seating eight, the two dressing rooms, the forward main cabin, the galley, the rear main cabin and the stateroom. In the center of the airplane, on the left side, is the main passenger loading door; just aft of it the circular stairway to the lower deck lounge.
Scat upholstery, rugs and wall coverings, as well as interior trims, were selected for harmony both of color I and pattern.
The cabin is 10 feet four and one half inches wide, and even on tiptoes a stewardess cannot touch the 8 foot I inch ceiling. You don't have to walk sideways in the aisle, and even a six footer doesn't have to "duck" at the main entry door. In other words, everything about the Mainliner Stratocruiser is big and roomy.
2
Sitting on a Cloud
Though color schemes in the fore and aft cabins differ — the seats are the same. And what seats! Engineers designed and built 61 different models — with hundreds of variations — before achieving their goal, a seat that would give gentle, comfortable support to every type passenger — from a featherweight blonde to a 220-pound husky.
The secret? — soft, foam-rubber cushions (enclosed in muslin cases to eliminate "sweating") — nylon suspensions — special shock mountings to eliminate transmission of vibration — extra width, and built-in head-rests.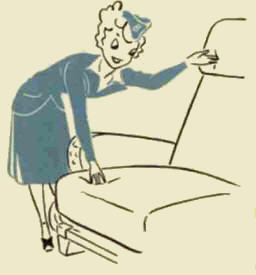 Then for that extra touch of luxurious — finger-tip controls in the armrest for individual reading light, stewardess call, "seat occupied" indicator, ash tray, and seat reclining adjustment (it engages at any position, not just at certain "notches").
If you find it hard to explain all those features to passengers just tell them they'll find Stratocruiser seats the most comfortable they ever sat in — like sitting on a cloud.
3
Lower Deck Club Lounge
Here, in effect, is a club car in the air! Located on the lower deck, the lounge is reached by a circular stairway from the main deck. It seats 12 to 14 passengers — in a friendly horseshoe arrangement. Under the stairs is a service bar. Rich upholstery — in harmonious fabrics and colors, soft, indirect lighting, full end-mirror, and unusual quiet, add to the attractiveness of the lounge. Without doubt the lounge will be one of the most popular features with passengers. No lounge seats are sold. They are open for enjoyment by all passengers.
Full Length Berths
The Mainliner Stratocruiser offers six berths for those who desire them on night flights . . . four in the forward luxury compartment and two in the private stateroom.
In the forward compartment, four seats make into a lower berth while the upper lets down from the curved.
4
side-wall. Mattresses with all bedding are "pre-made" and carried in the upper berth. In less than two minutes you have two really comfortable beds -7 inches wider and 2 inches longer than a standard railway berth. Forward compartment berths are wide enough for double occupancy. Each berth has reading lights, coat hangers, shelves for night cases and — is air conditioned'.
Berths in the stateroom are made up from the long divan lounges. Here is hotel-room privacy!
Ladies' Delight
There are two complete and separate dressing rooms. For the ladies a dressing room that's more than a fancy name for a washroom. No single occupancy limitations — five, even six, can occupy it without crowding. Consider this roominess: a sofa and two mirrored make-up tables (each with cleaning tissue dispenser, disposal unit, ash tray) — two lavatories and a dental basin — mirrors on three walls permitting full-length viewing — separate toilet compartment — and it flushes, just like at home'.
5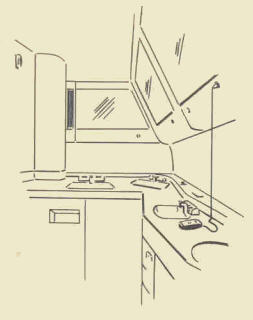 Men Only
For the men — again room — occu­pancy by up to six persons! Three — count 'em — wash basins plus dental basin. Big mirrors on both side and end walls. Electrical 110 volt outlets for razors. Disappearing coat hangers.
High Altitude Smoothness
Ask the man who has flown in the Mainliner Stratocruiser what impressed him most and likely he will mention quietness and smoothness.
Quietness is achieved by careful sound insulation and reduction of vibration to the lowest possible point. Important to smoothness is the Stratocruiser's ability to 8y "over the weather." With its cabin altitude conditioning and turbo-supercharged engines the Stratocruiser can cruise 5,000 feet higher than the maximum operation altitude of other transports with substantially less variation from sea level pressure and designed to go
6
up another 5,000 feet if necessary. The Stratocruiser "takes the bumps" easier in rough air because it has a relatively smaller wing surface — made possible by high horsepower. You can see how it works when you consider a kite, which is all wing with very little weight. It bounces on every air current. The Stratocruiser, on the other hand, has a comparatively small wing combined with high gross weight — engineers call it 'high wing loading" — which makes the airplane ride through average air bumps without excessive "bouncing."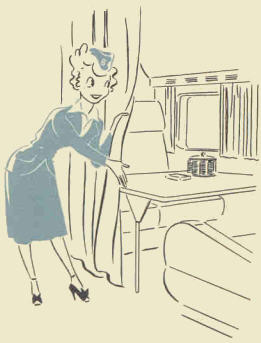 For Family Groups
Forward in the airplane, between the control cabin and the dressing rooms, is a compartment with seats for eight persons. It can be divided with aisle curtains to make two four-passenger sections. This compartment will undoubtedly prove popular with special parties and family groups — its facing seats are ideal for bridge or gin rummy. The eight-seat section makes up into four, full length, extra wide berths.
7
"Sea Level" 15,000 Feet Up
Pressurization, cabin altitude conditioning, call it what you will — it comes down to the simple fact of keeping the interior cabin altitude or "pressure" as near as possible to that experienced on the ground, when the airplane is flying at altitude. Pressurization eliminates high altitude fatigue and removes ear and sinus discomforts due to rapid altitude changes.
Boeing pioneered in the cabin supercharging field — its Stratoliner was the first pressurized commercial transport, its B-29 the first production model military airplane so equipped. Boeing test pilots have spent hundreds of hours above 30,000, even 40,000 feet, on studies of pressurization and high altitude performance.
So — it's natural that in pressurization, the Mainliner Stratocruiser built by Boeing is really "tops" in pressurized cabin comfort. For example the Stratocruiser holds sea level cabin pressure to 15,500 feet — nearly double the "sea level" altitude of other transports. At 20,000 feet the Strato-
8
cruiser cabin pressure is only 2,750 feet. At 25,000 feet — above the altitude at which other transports can operate — the Stratocruiser cabin pressure is only 5,400 feet, about the same as on the ground at Denver.
Stratocruiser cabin pressurization is bled from the turbo-superchargers — eliminating extra mechanical equipment. It's the same system as used in the Boeing B-29, B-50 and C-97 — and has been proved in millions of miles of flight.
On the safety side the Stratocruiser primary structure is built to withstand 20 pounds air pressure per square inch— but the maximum differential at extremes of operation is only 6.55 pounds. In other words there is a safety factor of three to one.
Ideal Climate, Any Season
With cabin pressurization comes real air conditioning. A complete change of cabin air every 90 seconds — yet the air movement is so gentle that all drafts are eliminated. And what the automatic gadgets do to that
9
air. Warn, it or cool it, filter out all odors — even cigarette smoke color! Treated fancy like that the air flows tip between the walls of the cabin, warming them, eliminating cold spots and drafts, and is introduced into the cabin through window-high vents and through the fabric of the ceiling. (Inside temperature of 72° can be held even when the outside temperature is 60° below zero.) The warm air also flows between the double panes of the windows, making them fog and frost free. The air is pulled off again at floor level, so that all smoke and odors are directed down and away from the passenger. Pure, fresh, clean air — just the right temperature. You can't see it, feel it, or smell it — but boy, is it good! Stratocruiser air-conditioning works on the ground too — pre-cools or heats the plane without outside equipment.
Lux Sit
"Let there be light." And there is in the Stratocruiser. The main cabin, lounge and dressing rooms have 30 fluorescent installations — some straight tube, some "circline." Individual read-
10
ing lights — specially designed by General. Electric, and more powerful than an ordinary 75-watt bulb, furnish each passenger with 1-1 foot-candles of light at reading level-and it says here that's good. No squinting at a half-lit page. In all there are 411 separate lights in the Stratocruiser. Electrical generating capacity of the plane is sufficient to supply all power needs of 50 eight-room homes. Separate and independent power sources assure a constant, reliable supply.
Every Stewardess A Queen
Now here's your stewardess' pride and joy! The Stratocruiser has a special seat and desk for stewardess or steward — full size and permanent. not just a "jump" arrangement. It is located convenient to the galley and in a strategic position for keeping an eye on all passengers. It has controls for cabin lighting and temperature, space for a portable typewriter, telephone, handy rack for passenger manifest, etc. Behind it is the passenger call indicator panel.
11
Hot from the Kitchen
A regular flying kitchen — complete with warming ovens, refrigerators, electric urns, running water and all other requirements for full-course meal service — is located amidships to permit fast, efficient serving forward and aft.
Food storage and preparation facilities make possible the serving of full-course hot meals as well as the hors d'oeuvres, salad and cold meat buffet so famous on United's Hawaiian Mainliners.
The galley, stewardess station and stairway to the lower deck lounge combine to divide the main cabin into two individually decorated sections.
Number, Please
While the Stratocruiser doesn't carry a telephone operator — it does have a junior size telephone system. There are phones at the stewardess' station, in the galley, at the lower-deck lounge service bar and in the control cabin. All members of the flight and passenger service crew are in quick communication with each other.
12
All Aboard In a Jiffy
Passenger loading is direct to the main upper-deck amidship so that passengers go both forward and aft — thus speeding loading. Door sill is 9' 10" from the ground, permitting use of present ramp equipment.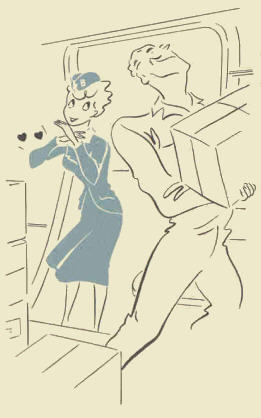 For auxiliary service, access to the main cabin is also available through the aft cargo com­part­ment door with its built-in steps then through the lounge and up to the main deck.
Baggage and Cargo Loaded Easily
Stand up straight, you six-foot cargo handlers — there's head room in the Stratocruiser. The forward cargo hold has 520 cubic feet of space and holds up to six tons of cargo. Door is 46 by 66 inches — you don't need a shoe horn to load big items. Sills are at truck bed height. No high lift trucks needed. Simplified tie downs. Cargo compartment is completely separate from passenger space and other service doors.
13
The large, separate cargo holds of the Stratocruiser permit flexibility of payload. If the passenger load is light additional cargo can be put aboard — speedily and without removal of seats or attachment of gadgets — potential for maximum revenue on any given flight.
The rear cargo hold is on the lower deck, aft of the lounge. It has a separate loading door — truck-bed-high sill. Baggage stows on both sides of a working aisle — and the compartment has a volume of 325 cubic feet. Both holds are fully accessible in flight.
Luxury features of United's new Mainliner Stratocruiser
14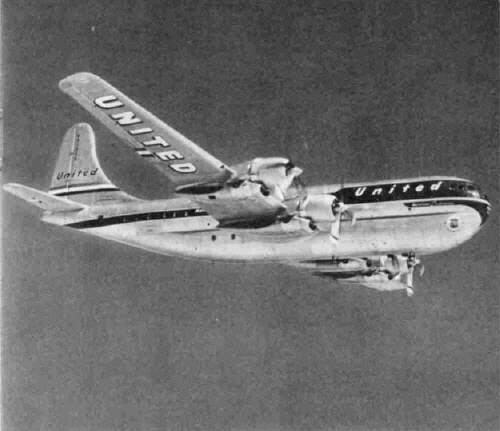 United's version of the Boeing Stratocruiser offers exclusive features for your comfort and convenience aloft.
On the following few pages,we present these to you.

15
Large square windows for sightseeing
Separate cabins offer club lounge atmosphere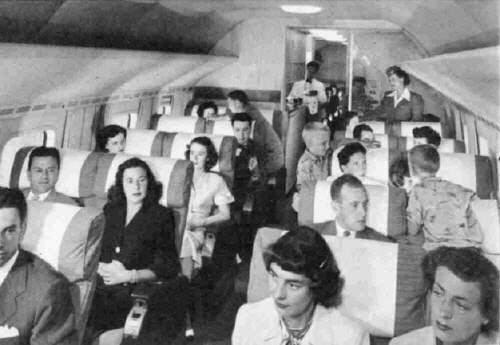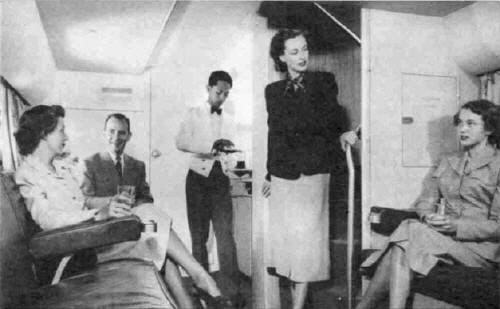 Fun, relaxation in lower lounge
Looking aft in lower deck lounge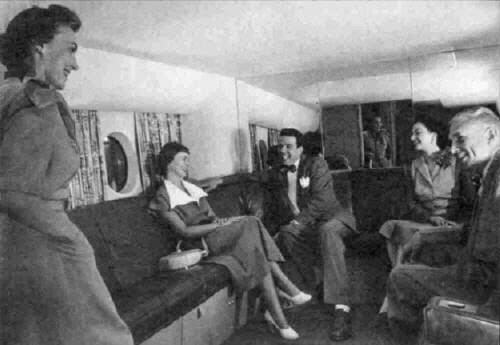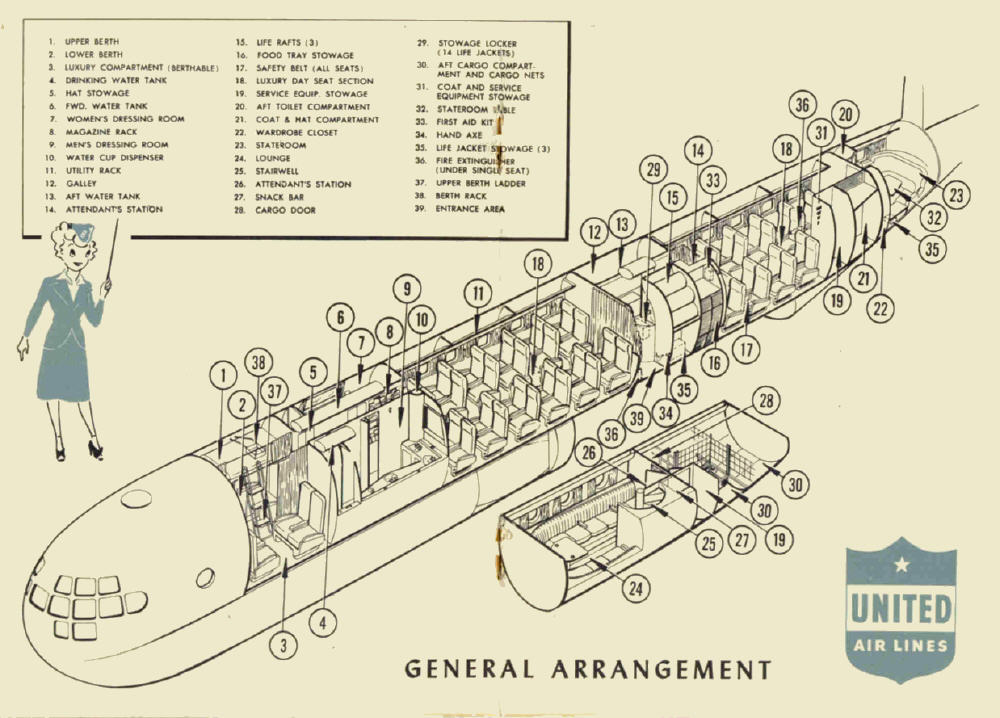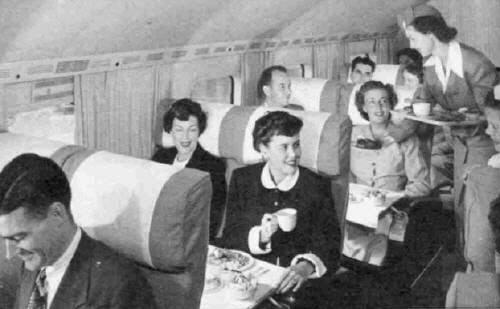 Course service of hot meals on individual tables
Late afternoon Hawaiian buffet supper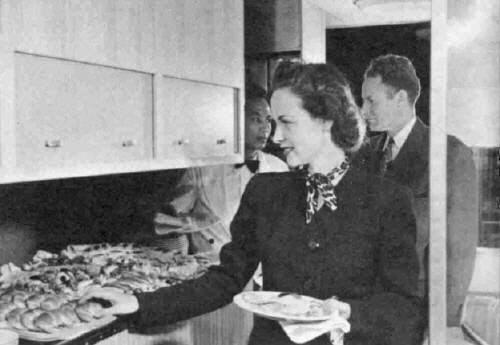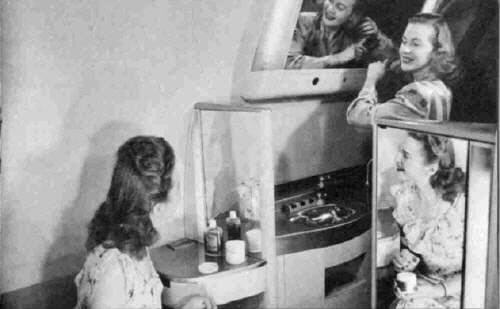 Powder room with every convenience
Roomy, modern men's lounge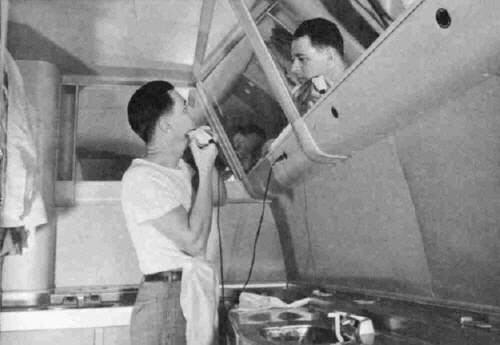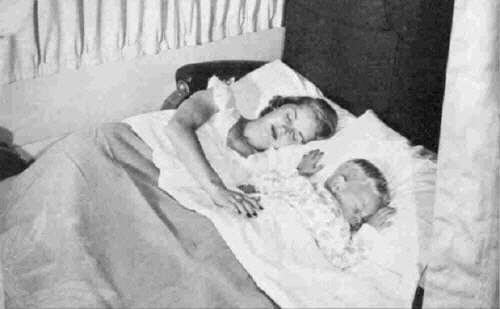 Really b-i-g berths and downy comfort
Private stateroom with individual lavatory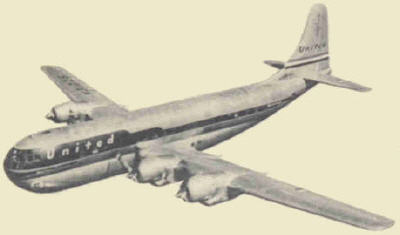 Pilot's Paradise
Here's a control cabin that's a real office" — comfort, convenience, room to work, literally a pilot's paradise. Eighteen big windows at normal eye level give 35% greater risibility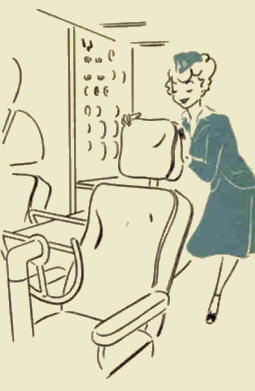 — up, down, laterally and to the rear. Nesa glass is used for defrosting and defogging the seven forward windows.
A simplified panel, below forward eye level, contains basic flight instruments. A glance over the pilot's shoulder reveals the engineer's instruments and controls. Pilot's controls are grouped on a central stand —
23
at finger tip of both pilot and copilot. Radio operator and navigator have ample working space to the rear of the cabin. "Red" lighting to relieve eye strain and improve visibility for night flying. So quiet you'll be looking to make sure the fans are turning.
Maintenance Simplified
Boeing engineers who have had practical experience with skinned knuckles, wry necks, anti "stoopitis" have made United's Mainliner Stratocruiser easy to maintain. Grouped panels and simplified tubing and wiring runs make it possible for instrument crews, mechanics, electricians, etc., to do their work simultaneously.
There is full sit-up room in the compartment directly below the main cabin — giving direct access to main control runs, electrical and hydraulic panels, and similar installations. The leading edge of the wing is hinged to give quick access to all installations along the front main spar. Extension of the flaps exposes fuel lines, wiring and flap and aileron controls in the wing trailing edge. All access doors have a Boeing quick-opening lock — no screws or bolts to unloosen, and all control cables have Boeing auto-rig quick disconnects — can be released in a jiffy and rig the cables at the proper tension when connected. Engines — even the complete power
24
packs — are interchangeable among all positions. An entire power pack can be changed by four men in 30 minutes. A starter can be replaced by one man in 30 minutes; a propeller by two men in two hours and 45 minutes.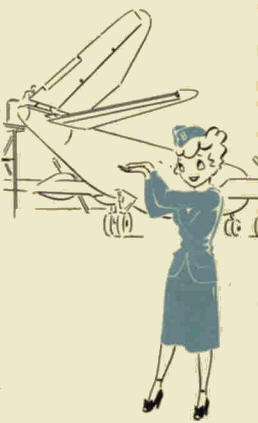 The Stratocruiser 3-piece cowl sections are attached by hook-type hinges and "trunk" latches — require no screw drivers. All 12 ring cowl sections are identical, easily removable and can be installed in any position on any of the nacelles.
Fold to Fit
More than three stories in height, the 38' 3" vertical fin is too high for most hangar doors. So — we hinged it at the body line and it folds down to lie flat on the horizontal stabilizer — reducing overall height to 26' 10". No disconnecting of controls is required. No — it can't be done in the air — the operation is manual —on the ground only.
"On-A-Dime"
Stops Reverse pitch propellers permit smooth, "on-a-dime" stops — even
25

enable the airplane to back up. Boeing test pilots have confounded onlookers by backing the Stratocruiser into parking areas.
Fourteen Thousand Turboed Horses
Four Pratt and Whitney 4360 Wasp Majors give the Stratocruiser a maximum of 14,000 horsepower, making it America's most powerful commercial airliner by several thousand horsepower. Each cylinder of the mighty P and W develops more power than the average eight-cylinder automobile!
For the utmost in fuel economy and high cruising speed the engines are equipped with General Electric turbosuperchargers —
26
first application of "turbos" on a commercial transport. Boeing developed the first practical application of turbo-superchargers on multi-engine aircraft in the B-17 Flying Fortress. They're in all B-29's, B-50's and C-97 Stratofreighters also. If you aren't familiar with them, a simple explanation is that the exhaust from the engines drives turbines which compress or supercharge the air that feeds the engines.
Ceiling of the Stratocruiser carrying medium load with three engines is more than 25,000 feet — it will climb well above 15,000 feet on two engines! In flight tests take-offs have been made on three engines, The airplane has a cruising speed of 300 to 340 miles an hour, depending on load, altitude, etc.
Test and Prove
Without doubt the Boeing Stratocruiser is the most thoroughly tested airliner ever produced — both in the thoroughness of testing on its components and in actual flight testing of the completed airplane.
More than 4,750,000 man-hours of design, development and testing have been invested to make the Stratocruiser an outstanding airliner.
Before the Stratocruiser ever left the ground —
Its power plant had "flown" 40,000 miles on a special test platform at the Boeing plant.
720 hours of low and high speed wind tunnel tests were put in on exact models of the big plane.
A functional mockup of the electrical power generating system was subjected to l,900 engineering hours of testing and analysis.
27
Its main landing gear had thumped to realistic landings 41,500 times — the nose gear 11,800 times.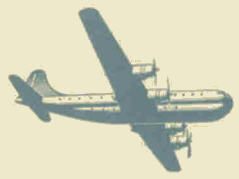 2,800 engineering hours were devoted to reducing radio interference to a new low.
The flooring used in the Stratocruiser showed no fatigue even after being tramped on 696,000 times.
Actual flight tests extended over a period of 18 months and totaled more than 250,000 miles up to certification of the airplane.
In simulated airline operation the Stratocruiser crisscrossed the United States in 54 flights totaling more than 200 hours prior to CAA certification.
As part of its flight test the Stratocruiser was dived at 498 m.p.h. true air speed!
Other Features
The Stratocruiser is the outgrowth of 15 years experience in building successful four-engine aircraft. Many of its major components such as wing, landing gear and empennage were proved on the B-29 in 1,700,000
28
hours of war-time flying. Safety features include:
Structural strength in excess of CAA requirements.
Unexcelled flight characteristics — excellent control response at all speeds including stall; directional stability under all conditions of power and airplane configuration.
Large vertical fin area — assures a stable flight path and makes possible "hands off" flight with even two engines cut out.
Low control forces as a result of well-proved design, extensive wind tunnel and flight testing.
Thermal anti-icing on both wing and tail surfaces.
Systems for cargo compartments smoke detection, and fire warnings and extinguishing equipment at all power plants and heaters. Cargo and baggage compartments and area below flight deck are accessible in flight.
High cruising speed minimizes effect of adverse winds — makes possible completion of flights within time limits of more accurate weather forecasts.
High altitude performance permits normal flight above storms at the s-m-o-o-t-h flight levels.
29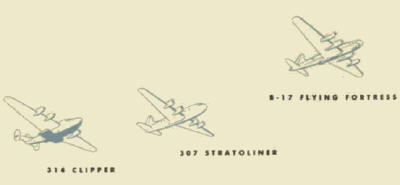 Stratocruiser Heritage
For more than 33 years Boeing has consistently pioneered the most significant aeronautical advancements — both military and commercial.
Back in the early 1930's when other aviation designers were concentrating on two-engine airplanes, Boeing pioneered the Shift to four-engine craft and has concentrated in this field ever since.
30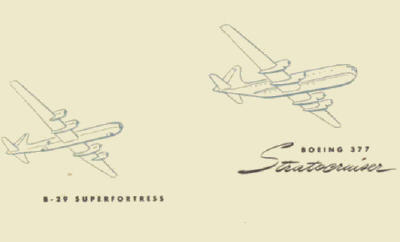 It developed and produced such outstanding four-engine aircraft as the B-17 Flying Fortress, the 314 transocean Clipper, the 307 Stratoliner — world's first pressurized transport plane — the B-29 Superfortress and the C-97 military transport. Today it is building the B-50 Superfortress — the Stratocruiser, an advanced C-97 Stratofreighter, and the B-47 Stratojet, first swept-wing jet bomber.
The 314's pioneered commercial transatlantic operation; the Stratoliners high-altitude transcontinental service. Both performed yeoman duty in military service, with thousands of routine ocean crossings to their credit.
31
Now comes the Stratocruiser, embodying the results of all of Boeing's background of engineering and manufacturing experience, the hundreds of millions of miles flown by B-17's and B-29's during the war, and the vision of forward looking engineers determined to bring an entirely new concept to commercial air transportation.
Background Of a Design
The B-29 Superfortress introduced an entirely new design concept — high wing loading and aerodynamic advancements with attendant increase in payload, speed and general performance, A combination of factors made this "new" design possible — engines of greater power, the Boeing-developed "117" airfoil, Boeing's adaptation of the Fowler-type flap and its pioneering experience in 4-engine aircraft and cabin pressurization. Companion to the B-29, as a working "team," Boeing evolved the C-97 military transport. Early in 1945 a C-97 set a transcontinental transport speed record of six hours, three minutes.
32
Sixty-three C-97 type transports have been built or are being built for the Air Force. And from the B-29 also evolved the great new Boeing B-50 Superfortress — mainstay of the U.S.A.F. It was a B-50 which amazed America with a non-stop flight around the world.
The revolutionary performance of the B-29, the C-97 and more recently the B-50 pointed logically to use of their design concept in an entirely new and radically advanced commercial transport. The wings, landing gear and empennage of the Stratocruiser are essentially the same as those of the B-50s.
Speed, range and high altitude performance are inherent in the Stratocruiser. The ratio of payload to total weight is greater than in any other transport — thus it has greater earning potential. High wing loading means smoother riding. High altitude performance gains the added speed of the thinner upper air and the advantages of overweather flying.
One more thing — when the designers laid out the Stratocruiser, they built into it room for comfort . . . room to relax on a long trip.
33
Performance
Cruising speed (25,000 feet)
300-340 m.p.h.
Normal operating altitude
15,000 to 25,000 feet
Service Ceiling (110,000 lbs.)
33,000 feet
3-engine ceiling (110,000 lbs.)
26,000 feet
2-engine ceiling (110,000 lbs.)
16,500 feet
Range:
10,500 lb. payload
4,600 miles
20,000 lb. payload
3,550 miles
25,000 lb. payload
3,000 miles
34
General Data
Dimensions:
Length
110'4"
Height
38'3"
Height (tail folded)
26'7"
Span
141'3"
Wing:
Airfoil Section
Boeing "117"
Area
1,769 sq. feet
Aspect Ratio
11.58
Loading (142,500 lbs.)
80.5 Ib./sq./ft.
Power loading (142,500 lbs.)
10.2 lb./h.p.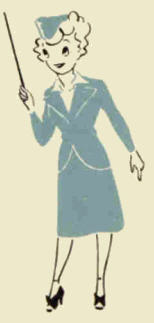 35